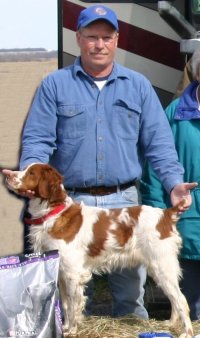 Welcome to Prairie Oaks Kennel. We are responsible breeders of quality bred, high style, and hard hunting Brittanys. We hunt and compete our Brittanys in American Field and AKC Field Trials throughout the Midwest.
I have been involved with hunting dogs since I was 12 years old, growing up pheasant hunting in South Dakota. I bought my first Brittany in 1989. I took her to a fun trial and she placed, and I was hooked on trialing. Trialing is a way of doing more with my dogs when hunting season is over.
I am active in Iowa, Missouri, and Hawkeye Brittany Clubs, holding various officer positions since 1990. I have finished many dogs to their field championship titles in both open and amateur stakes.
If you are looking for a Brittany that will for sure be a bird dog, give me a call. I will do my best to help you find a quality bred Brittany you will be proud of for many years to come.